Tweet
Best Brunch San Francisco
I love The Ramp – in the morning or in the evening!
For down home food on the old waterfront, head over to the Ramp… In spite of her local popularity, The Ramp still maintains the aura of being a well kept secret.
People from all walks of life converge at the outdoor patio restaurant to bask in the sun, watching world ported ships tug-boated to and fro, enjoying the hearty portion of American food. On the weekends, from May thru October, the crowd dances to the beat of International music while the BBQ is smoking.
The funky patio is an urban oasis, situated next to a working boatyard overlooking San Francisco Bay!!!
Waterfront Restaurant San Francisco
Website: The Ramp Restaurant
The Ramp Restaurant San Francisco
855 Terry Francois St
San Francisco, CA 94158
(415) 621-2378
Got Pics? Join our Best San Francisco Restaurants Flickr group.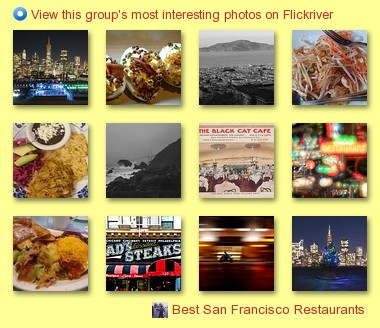 Connect with Me Subscribe - Twitter - Facebook Pinterest

Want to write a Guest Post for Things You Should Do?
Travel Blogger Guest Posts: If you'd like to write a guest post about your favorite restaurant, hotel or golf course - I would love it. Requirements, it must be an independent property (No chains!), it must have a website, you must have a good photo and it must be someplace you LOVE! I also accept advertisements and sponsored posts from those writing on behalf of a business. For more info, contact me at julie -at- things you should do dot com (no spaces) with the subject line guest post or advertising.

Have you Liked us Yet?

Join my Facebook Fan Page and add your favorite restaurants, hotels, golf courses, etc. right to the wall.



My comment policy - I think of this blog as my living room. If you're friendly, you're welcome here, but I don't want to share my home with spammers or rude people. And please don't forget - if you have a question or comment for the business featured here - their website link is listed above.

Filed under California, Food & Drink, Nightlife, Outdoor Dining, San Francisco Bay Area.
RSS 2.0, , Respond, or trackback.