Tweet
Clint Eastwood's Mission Ranch Hotel
Sing at the Piano Bar at the Mission Ranch in Carmel. If you love to sing, like I do, practice the words to Fly Me to the Moon, Sweet Caroline, American Pie and Volare before you head to the fabulous piano bar at the Mission Ranch in Carmel. There's plenty of opportunity to sing along, and maybe Clint will join in for a song or two.
The historic Mission Ranch, one of the most spectacular spots on the Monterey Peninsula has exquisite, unrivaled views: meadows stretch to the south, joining the wetlands and the Carmel River Beach. Point Lobos can be seen in the distance across the bay. … The ranch has had some 17 owners. It operated as a private club, then as officers' club for the Army and Navy during World War II. At that time the windows were occasionally blackened against a possible Japanese landing. It was owned in those days by the Dienelt family, who had the ranch for 39 years. It had a rollicking reputation, with dance bands and a lively bar scene. … Clint Eastwood bought the Ranch in 1986, rescuing the property from an impending fate as a condominium development. He sought out the best craftsmen for renovation, who have replicated moldings, doorframes, and hardware to match the style of the original buildings.
Thirty one unique rooms, many with ocean views, Fireplaces and jacuzzi tubs.
Things to do Carmel
Website: Mission Ranch, Mission Ranch on Uptake.com
26270 Dolores St
Carmel, CA 93923
(831) 625-9040
Got Pics? Join our Mission Ranch Flickr Group.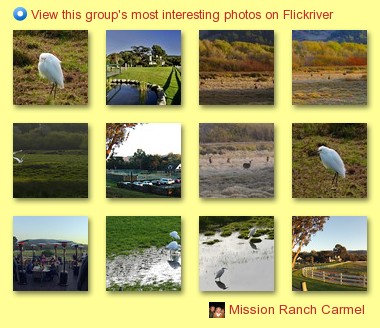 Website: Mission Ranch on Uptake.com
Mission Ranch
26270 Dolores Street
Carmel-By-The-Sea, California 93923
831-624-6436
Connect with Me Subscribe - Twitter - Facebook Pinterest

Want to write a Guest Post for Things You Should Do?
Travel Blogger Guest Posts: If you'd like to write a guest post about your favorite restaurant, hotel or golf course - I would love it. Requirements, it must be an independent property (No chains!), it must have a website, you must have a good photo and it must be someplace you LOVE! I also accept advertisements and sponsored posts from those writing on behalf of a business. For more info, contact me at julie -at- things you should do dot com (no spaces) with the subject line guest post or advertising.

Have you Liked us Yet?

Join my Facebook Fan Page and add your favorite restaurants, hotels, golf courses, etc. right to the wall.



My comment policy - I think of this blog as my living room. If you're friendly, you're welcome here, but I don't want to share my home with spammers or rude people. And please don't forget - if you have a question or comment for the business featured here - their website link is listed above.

Filed under Accomodations, Arts & Culture, California, Food & Drink, Monterey Peninsula, Nightlife, Piano Bars, Steak House, Z - Flickr Groups.
RSS 2.0, , Respond, or trackback.