Tweet
Waterfront Dining Marin
Sam's Anchor Cafe in Tiburon is one of my very favorite spots.
Since 1920 , Sam's Anchor Cafe has been a favorite waterfront restaurant on San Francisco Bay . Located in Marin County in the quaint historical township of Tiburon , we have long been famous for our American/seafood cuisine , our fun atmosphere and breathtaking views of Angel Island , Alcatraz and the San Francisco skyline!
Our Ramos Fizz 's are legendary! Weekdays & evenings are always relaxing and on weekends, well, we're just the most popular place on the Bay. It has been said that if you stay long enough you'll see everyone you've ever known. Come see for yourself why The San Francisco Chronicle voted us The Bay Area's Best Outdoor Restaurant!
Evenings at Sam's are especially rewarding. Unwind with your friends and a favorite beverage to one of our "Kodak" Sunsets . Then dine in the warm atmosphere of our remodeled dining rooms and treat yourself to the tastes of 70 years of culinary excellence from our seasonal dinner menu and our individually-selected wine list .
Whether you're visiting for brunch, lunch, dinner or just a few relaxing moments on our deck, rest assured that we will continue to provide you with the quality and service for which we are recognized.
All Hospitality is a forgone conclusion at Sam's and our Web site is no different. We think of it as our own virtual community. So we've gone to great lengths to keep you up-to-date on what's happening at Sam's and around Tiburon . Our 'Sam's Cam' gives you a peek at our popular deck as well as a glimpse at the local weather in case you're planning on sailing over. There's lots of other helpful information here, too, like our events calendar , photo gallery and our virtual Tiburon Tour . You can even purchase a gift certificate or pick up some cool Sam's logo merchandise from our secure online store.
So Come Visit Us!
Our hours are…
Lunch Monday to Friday 11:00am to 5:00pm
Lunch Saturday and Sunday 2:00pm to 5:00pm
Brunch Saturday and Sunday 9:30am to 2:00pm
Dinner Nightly from 5:00pm until 10pm
The bar is open until 1:30am nightly
Things to do Tiburon
Website: Sam's Anchor Cafe
Sam's Anchor Cafe Tiburon
27 Main St
Belvedere Tiburon, CA 94920
(415) 435-4527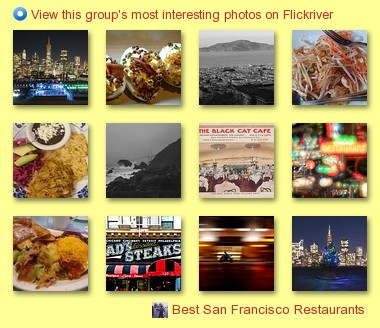 Grab this widget for your blog or space. You can modify the color and size to fit your design.
Connect with Me Subscribe - Twitter - Facebook Pinterest

Want to write a Guest Post for Things You Should Do?
Travel Blogger Guest Posts: If you'd like to write a guest post about your favorite restaurant, hotel or golf course - I would love it. Requirements, it must be an independent property (No chains!), it must have a website, you must have a good photo and it must be someplace you LOVE! I also accept advertisements and sponsored posts from those writing on behalf of a business. For more info, contact me at julie -at- things you should do dot com (no spaces) with the subject line guest post or advertising.

Have you Liked us Yet?

Join my Facebook Fan Page and add your favorite restaurants, hotels, golf courses, etc. right to the wall.



My comment policy - I think of this blog as my living room. If you're friendly, you're welcome here, but I don't want to share my home with spammers or rude people. And please don't forget - if you have a question or comment for the business featured here - their website link is listed above.

Filed under California, Food & Drink, San Francisco Bay Area.
RSS 2.0, , Respond, or trackback.