Tweet
Beachfront Restaurant Malibu
It's unusual to find a place on the beach in California that has a easy, casual vibe, but that's what you'll find at Paradise Cove Beach Cafe in Malibu, California near Los Angeles. It's the only restaurant in Malibu right on the sand with its own private beach & cove. It's Malibu's Paradise!
Susan and I sat in the adirondak chairs 15 feet from the shore, drinking Coronas and eating cheeseburgers, and it was a perfect end to a L.A. weekend. The food was fine, the beach dining was self-serve and the vibe was mellow. The view was pure heaven.
Star struck? Well Paradise Cove is the where lots of movies, TV shows and television commercials have been filmed. I could imagine myself as Gidget, catching a wave with Moondoggie. The pier is the one where Jim Rockford fished. Over the years we've also been the featured film location for The OC, Baywatch, Charlie's Angels, Sponge Bob Square Pants movie, American Pie 2, Alias, & more.
Got Pics? Join our Paradise Cove Flickr Group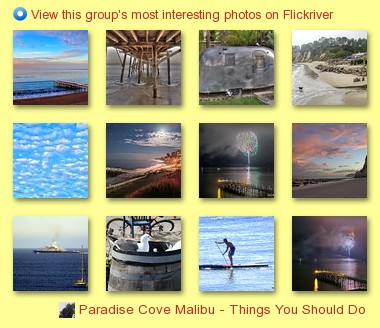 Things to do in Malibu
Websites: Paradise Cove Beach Cafe, Paradise Cove at Uptake.com
Paradise Cove Beach Cafe
28128 Pacific Coast Highway
Malibu, CA 90265
310-457-2503
Connect with Me Subscribe - Twitter - Facebook Pinterest

Want to write a Guest Post for Things You Should Do?
Travel Blogger Guest Posts: If you'd like to write a guest post about your favorite restaurant, hotel or golf course - I would love it. Requirements, it must be an independent property (No chains!), it must have a website, you must have a good photo and it must be someplace you LOVE! I also accept advertisements and sponsored posts from those writing on behalf of a business. For more info, contact me at julie -at- things you should do dot com (no spaces) with the subject line guest post or advertising.

Have you Liked us Yet?

Join my Facebook Fan Page and add your favorite restaurants, hotels, golf courses, etc. right to the wall.



My comment policy - I think of this blog as my living room. If you're friendly, you're welcome here, but I don't want to share my home with spammers or rude people. And please don't forget - if you have a question or comment for the business featured here - their website link is listed above.

Filed under Burgers & Pizza, California, Los Angeles, Outdoor Dining, Z - Flickr Groups.
RSS 2.0, , Respond, or trackback.