Tweet
Monterey Sightseeing Tour Unique
Quick . . . think of a West Coast location where more than 200 movies have been shot. If you're thinking of California, you're right. But if you answered Monterey, about two hours south of San Francisco, then you probably have already taken Doug Lumsden's Monterey Movie Tour. If you're not clued into Monterey's movie history, climb aboard, and let Doug show you how much Hollywood loves Monterey.
Right away, I know this is not an ordinary canned tour. Doug tailors his tour to our group — an older family from the East Coast, a bunch of locals, and a film student. From his library of dozens of film clips, he shows those we know, and some that each generation will recognize.
Whether you want to see From Here to Eternity, Play Misty for Me or The Caddy (filmed at Pebble Beach) Doug can give you the details.
Things to do Monterey
Website: Monterey Movie Tours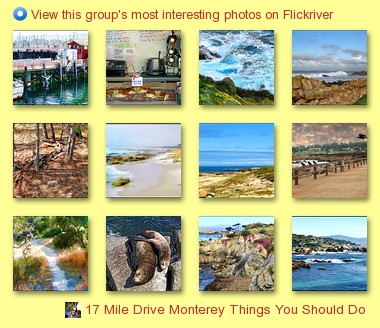 Fans of the 17 Mile Drive? Post this widget on your blog or space. You can customize to match your own color scheme.
Connect with Me Subscribe - Twitter - Facebook Pinterest

Want to write a Guest Post for Things You Should Do?
Travel Blogger Guest Posts: If you'd like to write a guest post about your favorite restaurant, hotel or golf course - I would love it. Requirements, it must be an independent property (No chains!), it must have a website, you must have a good photo and it must be someplace you LOVE! I also accept advertisements and sponsored posts from those writing on behalf of a business. For more info, contact me at julie -at- things you should do dot com (no spaces) with the subject line guest post or advertising.

Have you Liked us Yet?

Join my Facebook Fan Page and add your favorite restaurants, hotels, golf courses, etc. right to the wall.



My comment policy - I think of this blog as my living room. If you're friendly, you're welcome here, but I don't want to share my home with spammers or rude people. And please don't forget - if you have a question or comment for the business featured here - their website link is listed above.

Filed under Arts & Culture, California, Monterey Peninsula, Sightseeing & Touring.
RSS 2.0, , Respond, or trackback.