Tweet
Music Festival Monterey
The Spectacular Annual Montery Jazz Festival
"Festival of the Year!" – JazzTimes Magazine
"An array of talent" – CNN
"An embarrassment of riches " – Monterey County Herald
"Superb lineup, crackling energy" – Seattle Times
Blessed with sun-kissed weather throughout the three-day weekend, the oak-studded, 20-acre Monterey Fairgrounds provides perfect conditions for a fantastic showcase of music, sights and sounds at the Annual Monterey Jazz Festival Presented by MCI, always the third weekend in September. With over 500 artists performing on 7 stages throughout 3 nights and 2 days, the Monterey Jazz Festival offers ample opportunity for audiences to hear many of the world's most talented jazz artists.
Artists have included: Nancy Wilson, Diana Krall, Tony Bennett, Sonny Rollins, Pat Metheny, Mavis Staples, Branford Marsalis, John Scofield, Madeline Peyroux, Carla Bley and many more.
Things to do in Monterey
Website: Monterey Jazz Festival
Monterey Jazz Festival
Monterey County Fairgrounds
2004 Fairground Rd
Monterey, CA 93940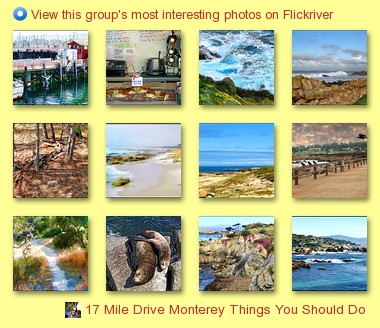 Connect with Me Subscribe - Twitter - Facebook Pinterest

Want to write a Guest Post for Things You Should Do?
Travel Blogger Guest Posts: If you'd like to write a guest post about your favorite restaurant, hotel or golf course - I would love it. Requirements, it must be an independent property (No chains!), it must have a website, you must have a good photo and it must be someplace you LOVE! I also accept advertisements and sponsored posts from those writing on behalf of a business. For more info, contact me at julie -at- things you should do dot com (no spaces) with the subject line guest post or advertising.

Have you Liked us Yet?

Join my Facebook Fan Page and add your favorite restaurants, hotels, golf courses, etc. right to the wall.



My comment policy - I think of this blog as my living room. If you're friendly, you're welcome here, but I don't want to share my home with spammers or rude people. And please don't forget - if you have a question or comment for the business featured here - their website link is listed above.

Filed under Arts & Culture, California, Events, Jazz Clubs, Live Music, Monterey Peninsula, Music Festivals, September.
RSS 2.0, , Respond, or trackback.