Tweet
Best Breakfast Monterey County
Get Yourself some Huevos Rancheros at Katy's Place in Carmel.
We always have breakfast at Katy's when we're in Carmel. It's casual and delish – I love the Huevos Rancheros, but my chums go for Eggs Benedict or Waffles and we're all happy. Katy's is open every day 7am – 2pm.
Katy's Place is known worldwide for its delectable specials:
Blintzes with Fresh Berries
Our own special cheese-filled blintzes
covered with fresh berries, served with sour cream.
$12.95
Swedish Pancakes
With mixed berries, raspberry sauce and whipped cream.
$12.95
Corned Beef Hash 'n Eggs
Prepared with fresh red potatoes, mushrooms, onions, parsley and lean corned beef brisket.
$13.50
Huevos Rancheros
Three eggs simmered in spicy salsa, served with sour cream, refried beans, and tortillas.
$12.95
The Mission Cookout
A casserole of poached eggs, melted cheese, sautéed onions, refried beans and salsa.
$12.95
Carmel Joe's Special
Extra-lean ground beef sautéed with onions, spinach, mushrooms and eggs.
$12.95
Breakfast Burrito
Tortilla stuffed with scrambled eggs, tomatoes, bell peppers, refried beans,
salsa, onions, sour cream, guacamole and Jack cheese.
$12.95
Miss Audrey's Biscuits & Gravy
Authentic southern style, served with bacon and eggs
$12.50
Carmel Breakfast Restaurant
Website: Katy's Place
Katy's Place Carmel
Mission Street between 5th and 6th
PO Box 7467
Carmel, CA 93921
Tel. (831) 624-0199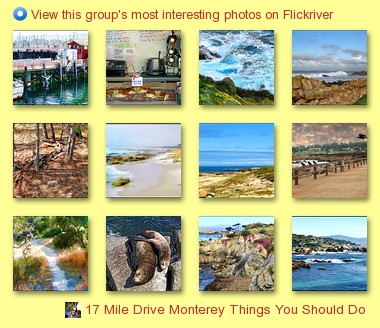 Fans of the 17 Mile Drive? Post this widget on your blog or space. You can customize to match your own color scheme.
Connect with Me Subscribe - Twitter - Facebook Pinterest

Want to write a Guest Post for Things You Should Do?
Travel Blogger Guest Posts: If you'd like to write a guest post about your favorite restaurant, hotel or golf course - I would love it. Requirements, it must be an independent property (No chains!), it must have a website, you must have a good photo and it must be someplace you LOVE! I also accept advertisements and sponsored posts from those writing on behalf of a business. For more info, contact me at julie -at- things you should do dot com (no spaces) with the subject line guest post or advertising.

Have you Liked us Yet?

Join my Facebook Fan Page and add your favorite restaurants, hotels, golf courses, etc. right to the wall.



My comment policy - I think of this blog as my living room. If you're friendly, you're welcome here, but I don't want to share my home with spammers or rude people. And please don't forget - if you have a question or comment for the business featured here - their website link is listed above.

Filed under Breakfast & Brunch, California, Food & Drink, Monterey Peninsula.
RSS 2.0, , Respond, or trackback.