Tweet
My sis and I had a delish lunch on the patio at Hog Island Oysters at the San Francisco Ferry Building. Yummy. I had the Oyster Bar Mix and Baby Arugula Salad Red Dianju pear, chiogga beets, hazlenuts and Redwood Hill Farms chevre with minted red wine vinaigrette and she had Clam Chowder Manila clams with aromatic vegetables, bacon, potatoes and cream.
At the north end of the San Francisco Ferry Building,the Bay Area's shrine to local farmers, artisan producers, and world-class food, oyster devotees slurp down plump, succulent Hog Island oysters laid out on a bed of ice while taking in a spectacular view of the Bay.
The Ferry Building Marketplace is a people's marketplace serving residents and travelers alike. Located within the historic Ferry Building at the foot of Market Street, shops large and small celebrate food in all its forms, offering everything from artisan cheeses to the freshest of local fish. Restaurants and cafés serve cuisine representing the quality and cultural diversity of San Francisco's best chefs.
Websites: Hog Island Oysters, Ferry Building Marketplace
Hog Island Oyster Co.
1 Ferry Bldg # 11A
San Francisco, CA 94111
(415) 391-7117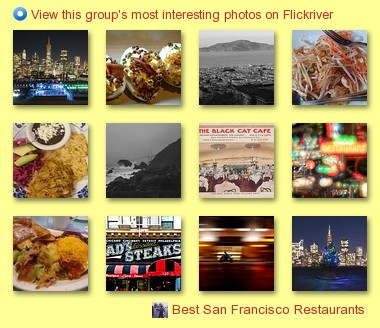 Grab this widget for your blog or space. You can modify the color and size to fit your design.
Connect with Me Subscribe - Twitter - Facebook Pinterest

Want to write a Guest Post for Things You Should Do?
Travel Blogger Guest Posts: If you'd like to write a guest post about your favorite restaurant, hotel or golf course - I would love it. Requirements, it must be an independent property (No chains!), it must have a website, you must have a good photo and it must be someplace you LOVE! I also accept advertisements and sponsored posts from those writing on behalf of a business. For more info, contact me at julie -at- things you should do dot com (no spaces) with the subject line guest post or advertising.

Have you Liked us Yet?

Join my Facebook Fan Page and add your favorite restaurants, hotels, golf courses, etc. right to the wall.



My comment policy - I think of this blog as my living room. If you're friendly, you're welcome here, but I don't want to share my home with spammers or rude people. And please don't forget - if you have a question or comment for the business featured here - their website link is listed above.

Filed under California, Food & Drink, Outdoor Dining, San Francisco Bay Area, Seafood.
RSS 2.0, , Respond, or trackback.