Tweet
San Francisco Giants Tickets
See the Giants beat the Doggies at AT&T Park
It's the only ballpark in America where home runs can be "splash hits." Where the breathtaking Bay views rival the action on the field. Where one of baseball's most hallowed franchises plays inside an architectural landmark. On your behind-the-scenes ballpark tour of sensational AT&T Park, the home of the San Francisco Giants, you will get to go places only the players and staff go including:
The Field Warning Track – The Dugouts – Indoor Batting Cages – The Visitors' Clubhouse – The Press Box – The Luxury Suites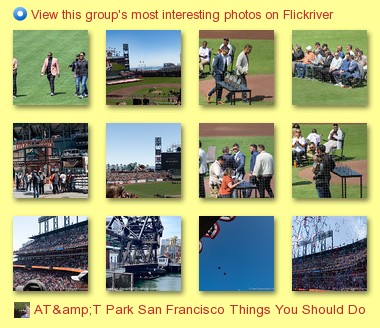 Things to do in San Francisco
Website: AT&T Park
AT&T Park
24 Willie Mays Plz
San Francisco, CA 94107
(415) 972-1800
Connect with Me Subscribe - Twitter - Facebook Pinterest

Want to write a Guest Post for Things You Should Do?
Travel Blogger Guest Posts: If you'd like to write a guest post about your favorite restaurant, hotel or golf course - I would love it. Requirements, it must be an independent property (No chains!), it must have a website, you must have a good photo and it must be someplace you LOVE! I also accept advertisements and sponsored posts from those writing on behalf of a business. For more info, contact me at julie -at- things you should do dot com (no spaces) with the subject line guest post or advertising.

Have you Liked us Yet?

Join my Facebook Fan Page and add your favorite restaurants, hotels, golf courses, etc. right to the wall.



My comment policy - I think of this blog as my living room. If you're friendly, you're welcome here, but I don't want to share my home with spammers or rude people. And please don't forget - if you have a question or comment for the business featured here - their website link is listed above.

Filed under Baseball, California, Kids, San Francisco Bay Area, Sightseeing & Touring, Sports, Z - Flickr Groups, Z - Tickets.
RSS 2.0, , Respond, or trackback.