Tweet
California Scenic Drive
Drive a Convertible on the 17 Mile Drive, Pebble Beach
Discover Nature's treasures as you explore the serene majesty of Del Monte Forest. Here you'll quickly experience the magic of a legendary scenic tour that's home to The Lone Cypress, Seal and Bird Rocks, Fanshell Beach, Point Joe, and the colliding currents of The Restless Sea. You'll see black cormorants, brown pelicans, California sea otters, harbor seals, and idle sea lions all in their natural habitat. Colorful native wildflowers dot the scene, adorning the cool, soothing hues of the seashore and carefully preserved dunescape. Along the way, you'll encounter the emerald fairways of such famous golf courses as The Links at Spanish Bay, Spyglass Hill and the world-renowned Pebble Beach Golf Links. For a gourmet picnic lunch along 17-Mile Drive, visit Pebble Beach Market adjacent to The Lodge at Pebble Beach.
Things to do Pebble Beach
Website: 17 Mile Drive
Got Pics? Join our 17 Mile Drive Flickr Group.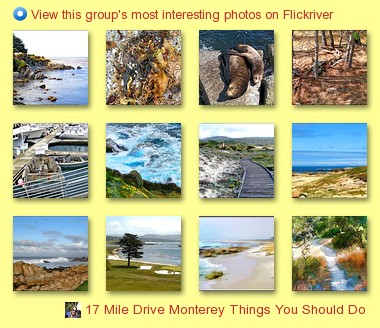 Connect with Me Subscribe - Twitter - Facebook Pinterest

Want to write a Guest Post for Things You Should Do?
Travel Blogger Guest Posts: If you'd like to write a guest post about your favorite restaurant, hotel or golf course - I would love it. Requirements, it must be an independent property (No chains!), it must have a website, you must have a good photo and it must be someplace you LOVE! I also accept advertisements and sponsored posts from those writing on behalf of a business. For more info, contact me at julie -at- things you should do dot com (no spaces) with the subject line guest post or advertising.

Have you Liked us Yet?

Join my Facebook Fan Page and add your favorite restaurants, hotels, golf courses, etc. right to the wall.



My comment policy - I think of this blog as my living room. If you're friendly, you're welcome here, but I don't want to share my home with spammers or rude people. And please don't forget - if you have a question or comment for the business featured here - their website link is listed above.

Filed under California, Monterey Peninsula, Sightseeing & Touring, Z - Flickr Groups.
RSS 2.0, , Respond, or trackback.